Get Started
This course is currently closed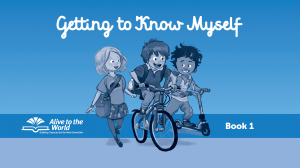 This teacher guide accompanies the course book Getting to Know Myself and is an integral part of the international series Alive to the World/Aprendiendo a Querer created by Christine de Marcellus Vollmer with Carlos Beltramo Álvarez.

www.alivetotheworld.org

Original text in Spanish under the title Empiezo a Conocerme © 2006 Alianza Latinoamericana para la Familia (ALAFA)

This edition is based on the French adaptation Les Histoires de Théo © Mame 2016 under the overall direction of Guillaume Arnaud, Sophie Cluzel and Elisabeth Hebert.
www.mameeditions.com

English language edition © 2020 Louise Kirk

Course book published by Gracewing
www.gracewing.co.uk

All rights reserved, Alianza Latinoamericana para la Familia. No part of this publication may be reproduced, stored in a retrieval system, or transmitted in
any form, or by any means, electronic, mechanical, photocopying, recording or otherwise, without the written permission of the copyright owner.
Edited and translated from the French by Louise Kirk, UK Co-ordinator for  Alive to the World

Design by Panda Press

We should also like to thank the Catholic Archdiocese of Cardiff for making this edition possible.
Other titles in the UK series include:
Happy and Healthy
Growing Together
We are a Team
Caring and Sharing
Different and Complementary
Friends!
Changes and Challenges

To order a copy of the Course Book, which is designed as a Big Book held and read out by the teacher, please contact:
Gracewing Publishing
www.gracewing.co.uk
Tel +44 1568 616835